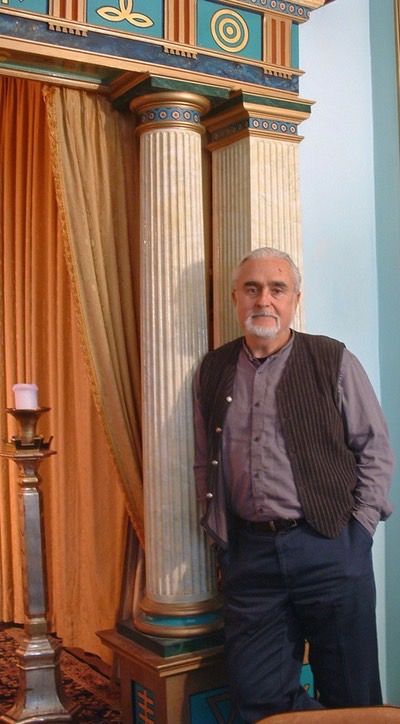 My spiritual journey began as a young child raised in an Irish Catholic family. My mother always taught me that spirituality was important. My father died when I was very young, and the words, "our father who art in heaven" had a double meaning for me. One of the first duties I had a a child was being an altar boy. I found being on the altar was very fulfilling for me. I enjoyed being close to the mystery of Catholic rituals. I was lucky enough to have gentle priests who were very patient with me and with my curious nature. I attended a "boys only" catholic high school and was active in "YCS":Young Christian Students.  After high school, as I entered into the adult world, and struggled with the moral issues of the 60s, the answers of Catholicism no longer rang true for me. Yet, because Spirituality was so important to me, I could not completely abandon it when I left the religion of my youth. Instead, I began a serious quest for new truths.
Along the way, I studied philosophy and practiced Buddhism. When I met Dr. Thane Walker and the Spiritual community known as "The Prosperos", I knew that I had finally found my home. I still recall in vivid detail my first day with them, when I made so many wonderful friends that I have remained close to throughout my life. I remember getting into my car and thinking, "my life will never be the same.
Thane, as he was affectionately known to all his students, was a powerful and enigmatic man. He had studied with G.I. Gurdjieff a Russian mystic who was perhaps one of the most innovative and influential teachers of the early 20th century. Gurdjieff was famous for saying that most people are "asleep". Thane's education and experience are too extensive to list here but needless to say, he also was a very powerful man who awakened many souls including mine. Throughout my 20's and 30's I devoted myself to becoming a Minister in The Prosperos. I received my Ministerial degree, in 1983, and began teaching and counseling professionally.
Shortly after Thanes death, I decided it was time to renew my exploration of other paths, which led me to seek out a White Mountain Apache Medicine woman to study Native American Spirituality.  She along with a Yaki Medicine woman, taught me the ways of the pipe, sweat lodge and other sacred teachings. While I greatly respect the red road, I recognized that this was not what I wanted to teach, so I left that community, to begin the process of creating my own classes and teachings.
Throughout my adult life, I have had a passion for the Tarot.  I studied it extensively and was certified as a Tarot Teacher by the American Tarot Association. The Tarot, more than any other tool has helped me to connect with my students one on one and has consistently supported my Ministry. For the past 20 years I have been developing a new alternative Tarot Deck called, The Evolutionary Tarot. The new deck and the book explaining it will be available March 2017.
In addition, I have been an avid devotee to the teachings of the cultural Historian, "William Irwin Thompson". I only spoke with the man, once on the phone but none the less feel he has been a major influence in my Spiritual development. The other teacher who I still study with and would highly recommend, is Evan Hodkins, who teaches classes under the banner of The  School of Alchemy. Web links to both are available elsewhere on my sight.
In some ways, it feels as if my journey is just beginning rather than approaching an end. One cannot know these things ultimately, but I do know I am excited about the possibilities I see. I have a deep passion for all that I have learned and am committed to always learning more. I offer you the best of what I have learned for that is the manner of all teachers to pass along what they love and value the most. I am here to serve you.